Warranty service
The "GreenAl" company provides an extended 1 year warranty for all equipment and is ready to eliminate all hidden defects of the goods that could not be discovered upon receipt
All obligations under the warranty period are fixed in the contract and in the technical support of the documentation. We are ready to consider the application and resolve issues of warranty service as soon as possible.
The "GreenAl" company recommends buyers adhere to the rules of operation, transportation and storage of equipment during the warranty period.
Post-warranty service
The service department of the company "GreenAl" is ready to offer you audit, service maintenance and repair of equipment of our production, at the end of the main warranty period.

Timely and high-quality service of the operated equipment is a guarantee of the duration of its use and a guarantee of uninterrupted operation of your business. Flexibility for maintenance and repair of equipment, allows you to individually set the list of works, payment system, guarantees for services. The cost of service and repair is calculated individually for each client.
Our service team is provided with all necessary tools to do the work. All this will allow us to provide high-quality services.
The presence of a constant stock of original spare parts and consumables in the company's warehouse allows us to meet the needs of our customers in full and as soon as possible.
We are also ready to train your employees, which will allow you to perform a certain part of the repair and maintenance work quickly and efficiently on your own..
Additional services
GreenAl maintenance department provides a full range of maintenance and repair services.
installation/disassembly of equipment purchased
assembly/disassembly of racks
assembly and putting into operation of outboard trolley and additional equipment
warranty maintenance
postwarranty maintenance
repair of equipment
external examination, diagnostics and malfunction detection
checks, replacement of broken parts and design elements
elimination of mistakes made during assembly and installation performed by the customer
welding works
training on operations, assembly and maintenance
spare parts delivery
cleaning and washing of equipment
consultation on maintenance and repair works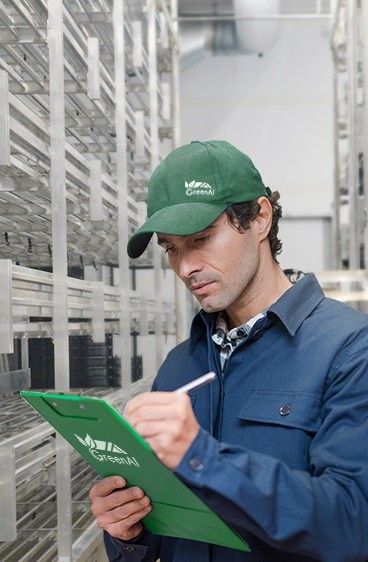 For warranty and post-warranty service, please contact:
Application Service: ga@green-al.ru
Phone: +7-8552-77-88-03
E-mail: service@green‑al.ru